Year 3/4 Gym Team - 2nd place!
Year 3/4 Gym Team - 2nd place!
16 May 2016 (by admin)
Our year 1/2 and 3/4 gymnastics team went to Pipers Vale on Friday 13th May to compete in the South Suffolk Gymnastics competition.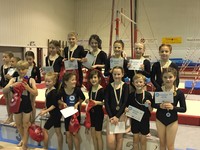 Our year 1/2 team of Toby, Bradley, Thomas, Isla, Charlotte and Jessica were up first and did really well coming in 5th place overall. Next up was our year 3/4 team of Amy, Jazmin, Hazel, Alice, Tabby and Mackenzie who performed brilliantly and came a very well deserved 2nd place. Congratulations to them for their hard work and to Kelly Mires who trained the teams and accompanied the children to the event.