Welcome Back!
Welcome Back!
12 April 2016 (by admin)
We hope you all had a great break. We are looking forward to an exciting summer term with lots of interesting things happening.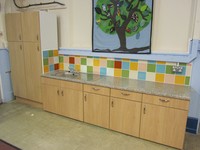 As you can see, we are delighted that work on the new toilets is well underway. The children are aware of the procedures during the works, but for your information, drop off and collection will from the large playground at the beginning and end of school and after school clubs that are held in school. There is access to the office via the small gate across the small playground, but it is not advisable to bring/allow children in this area. The portaloos are situated in the re-cycling area which is fenced off for safeguarding and safety purposes. Do not move these fences or attempt to gain entry via this route. The water in parts of the school has had to be turned off during the works, so children will be unable to fill water bottles in school from the cooler. They therefore must bring into school a bottle of water for the school day. We are also delighted that the art area of the school hall has been wonderfully re-furbished thanks to Seager Home Solutions Ltd who supplied and fitted the whole area at their own time and expense for the benefit of the school. Many thanks Kelly and Mark Greaves for arranging this. As we are now in the summer term, children in Owls class will be allowed out of school independently to meet their parents/carers. Please could we ask that all parents ensure that dinner money is paid on the first day of the week by 9am and is in a sealed envelope with the child's name, days and meal options required written on the front. As you are all aware, Monday mornings are a busy time in the office and this will enable a swift service for all. The same applies to club payments, school trips etc. Please also ensure that your child has their named PE Kit with trainers in school EVERY DAY! Parking – don't forget that parents are welcome to use the Methodist Church car park at drop off and collection times – it is only a 2 minute walk! Just a reminder that you are welcome to attend the Parents forum with Mrs Burdiss on Thursday morning at 9am to discuss the school day, PE kit and Parents Evening.